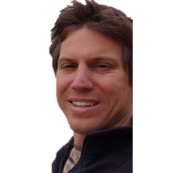 Simon is a Software Developer, an Agile Coach and Professional Scrum Trainer from Ottawa. He earned an Electrical engineering degree with a minor in Software engineering as a sidekick of his babyfoot championship league and tournaments, that he organized at the university pub.
People often get motivated working with Simon, maybe because of his outstanding enthusiasm or maybe his 6000 km hiking journey in the woods demonstrated it's ok to dream big.
If not working closely with a client, organizing a monthly Agile Ottawa Event or organizing the Gatineau-Ottawa Agile Tour, you can find Simon rock climbing or hiking with his little munchkins and lovely wife, deep in a forest or on top of a mountain somewhere in North America.
Simon's professional world was flipped upside down when a Scrum Master joins his waterfall team back in 2005. He was a miserable programmer in a dark cubicle suffering from other's tantrum when he would fix their code. Being a Scrum team member for 5 years taught Simon the true potential of a high-performance team. Since then, Simon helps his clients experience how it feels to be part of a Professional Scrum Team and how it feels when the Agile Mindset is understood deeply across the organization. Simon is an energetic change agent.
It should be no surprise to see that the same young man who previously braved the coldest Canadian temperatures while teaching snowboard instructors has now become a recognized Agile Coach and Professional Scrum Trainer later in life.
Simon speaks, reads, writes fluently in English and in French.
Events this person is involved with:
Trainer